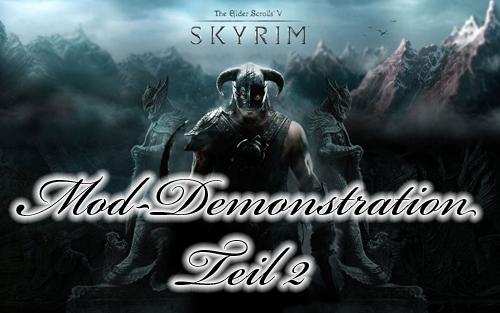 Titel:
The Elder Scrolls V: Skyrim
Plattform:
PC, PS3, XBox360
Entwickler:
Beteshda Softworks
Publisher
Beteshda Softworks
Genre:
Rollenspiel
USK/PEGI
-
Spieler:
Offline: - / Online: -
Release:
11.11.2011
Wir zeigen euch wieder einige der interessantesten Mods zum momentan wohl beliebtesten Rollenspiel. Teil 2 unserer Mod-Demonstration für
The Elder Scrolls V: Skyrim
befasst sich unter anderem mit der Beleuchtung, neuen Wolken und weiteren Texturen. Außerdem geben wir euch einen Einblick in das neue Inventar was spezifisch für die PC-Steuerung angepasst wurde.
Ihr bekommt von uns aber nicht nur das Video präsentiert, wir weisen zudem auf eventuelle Bugs und Abstürze hin. Natürlich gibt es auch diesmal wieder eine entsprechende Linksammlung aller vorgestellten Modifikationen. Sollte nicht das richtige dabei sein, dann werdet ihr vielleicht in
Teil 1
aus unserer Videoreihe fündig. Außerdem empfehlen wir das
Video-Tutorial über die Mods
, um etwaige Probleme vorzubeugen.
Links
Inventar:
SkyUI at Skyrim Nexus - Skyrim Mods and community
Texturen:
Skyrim HD - 2K Textures at Skyrim Nexus - Skyrim Mods and community
und
Ambient Texture Pack at Skyrim Nexus - Skyrim Mods and community
Wolken:
Dramatic Clouds at Skyrim Nexus - Skyrim Mods and community
Lippen:
Detailed Lips at Skyrim Nexus - Skyrim Mods and community
Gesichter:
No More Blocky Faces at Skyrim Nexus - Skyrim Mods and community
Körper:
Detailed Bodies at Skyrim Nexus - Skyrim Mods and community
Berge:
AOF Detailed Mountains at Skyrim Nexus - Skyrim Mods and community
Schnee:
High Resolution Snow 2048 4096 at Skyrim Nexus - Skyrim Mods and community